ORDER YOUR COPY • PURCHASE ON
FROM THE INTRODUCTION IN THE BOOK:
Defying odds longer than that of Arcangues winning the 1993 Breeder's Cup Classic horse race, the Scorpions rose to rock and roll royalty from relative obscurity in Hannover, West Germany, during the late 1970's and early 1980's.
Herman Rarebell, aka Herman "Ze German", was part of it all. More than just a drummer, Herman's additional input through his imaginative and inspired songwriting was conceivably the key ingredient and missing component that led to their rise to prominence while most of those in the so-called "know" said they were only kidding themselves.
Dieter Dierks, the long-time producer of the Scorpions says:
"Herman was an integral part in the development of that which eventually became known as the classic Scorpions sound. Music all starts with the drummer. Not many people realize this. However, if you look at the "success" of the group, or, perhaps more appropriately, the lack thereof, prior to the arrival of Herman "Ze German" as well as that which has eluded them since his departure, I think you can see exactly how pivotal his role was within the band."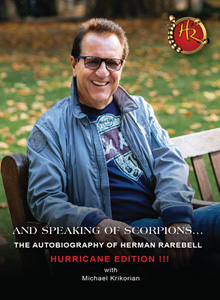 HURRICANE EDITION AVAILABLE